[an error occurred while processing this directive]
Record Keeping and the Web
Johanne Pelletier
McGill University

ECURE October 12, 2002
Garron Wells
University of Toronto



1
Session Objectives
Review why preserving the web is an issue

Development of the web within IT framework
Archival/RM literature key issues



Outline strategies and operational considerations for preservation


Promote awareness of the importance of web site analysis for institutional accountability
2
University of Toronto
University of Toronto, ,est. 1827

Largest university in Canada
60,000 students
10,000 employees

University Archives

Archives & Records
University Library (RBSC)
3
McGill University
McGill University

Universitas 21
est. 1821
35,000 students
8,000 employees

University Archives

Archives & Records
University Secretariat
4
Why the Web?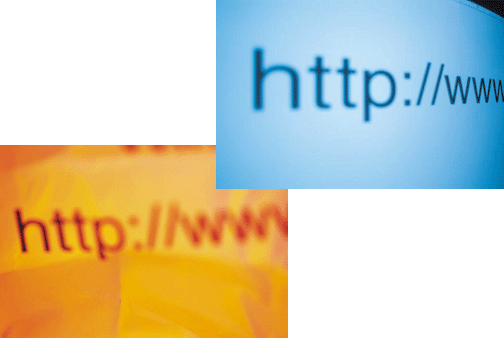 5
University Web Activity
Communications

banner or brand
client services

recruitment
student services & alumni



Teaching/Outreach

Teaching & Learning
Research



Administrative Functions

"New" University record:

Static sites

Calendars
Administrative functions



Interactive functions

Admissions
Teaching
Access to Administrative data/Intranet applications

HR
Finance
Student Records
6
| | |
| --- | --- |
| Policy Gap? | |
Site creation
Content ownership
"Vision" of the web/branding
Content management
Privacy/Risk
Concurrence of sites with other records systems
7
Site Development Issues = Implications for Preservation
Content control & accuracy
Branding
"official" sites
Compliance on "look and feel"
Preservation formats & strategies
Access and privacy
Links/consistency

Relative url addresses
XHTML use for all sites
Minimize software dependence - use neutral formats
Avoid use of proprietary search engines
8
Policy Infrastructure & Risks
RM & Preservation Strategy


Web Policy


IT Policy

Administrative
Research
Teaching & Learning

? Content control

data, records, information accuracy
Ownership & management



? Uneven content across the university


? Accountability

Risk loss of records
Risk release of corporate information
9
Accountability and Records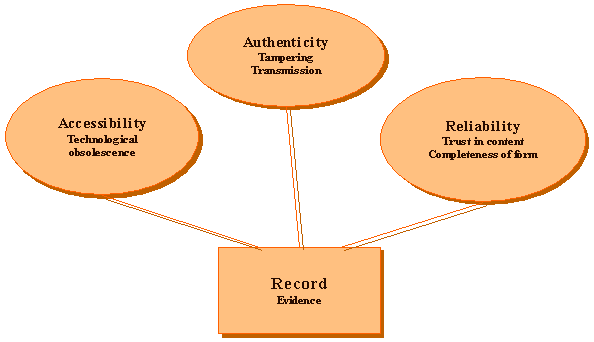 10
Literature - Key Issues
McClure/Sprehe Study - Risk Analysis


Information Management Forum (IMF)


National Archives of Australia (NAA)
11
McClure/Sprehe
Features of McClure and Sprehe study:
identified confusion in terms 'record' and 'publication' when applied to web sites


proposed guidelines for managing information on web sites based on records management theory


developed risk model to analyze an organization's accountability exposure
12
IMF
IMF Features:
applied McClure/Sprehe model to Canadian government and its agencies


added feature: Local Site repository


separated responsibility for preservation of web site information between National Archives and the National Library
13
NAA
NAA Features:
builds on McClure/Sprehe and IM Forum work


simplifies risk assessment model


provides practical strategies for storage and preservation of web-based resources for long term accessibility
14
NAA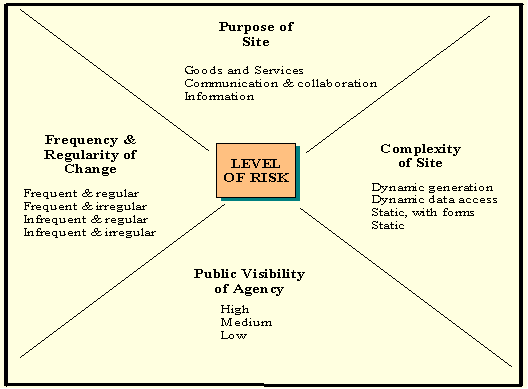 15
| | |
| --- | --- |
| Current Responses | |
16
Responses
Policy level intervention
Records management scheduling
Pilot projects

Snapshots - local site repositories
Intranet

Comprehensive approaches:

Policy
Snapshot - LSR + Historical Log
Scheduling/Transfer/Preservation Strategy
17
Snapshot (Dollar Consulting)
Complete, accurate, executable copy of a site or html page. Replicates al functionality of the site (option is to capture as object in PDF)
Must also capture third-party web sites or links within the sites
advocated by NARA and NAA for archival transfer
PDF capture option (but cannot be exported back into HTML)
18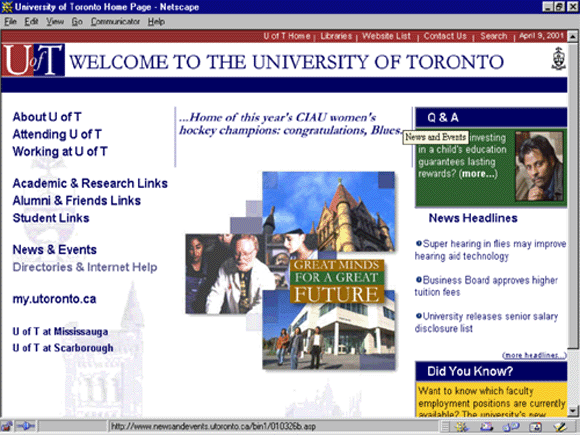 19
U. of T. Strategy
Strategies:
assessing risk - records management strategies:

Accountability: Low, Moderate and High Risk Sites
Historical Log
Local Site Repository
20
U. of T. Strategy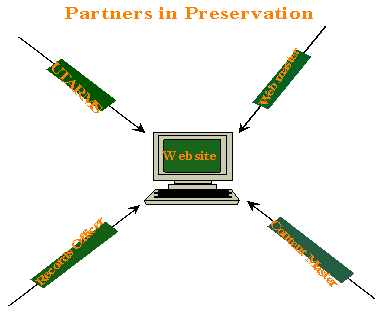 21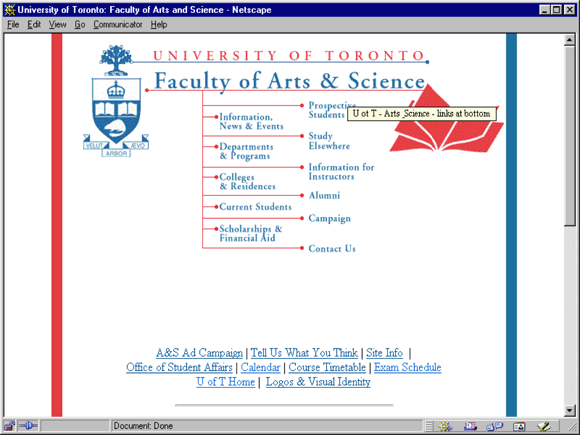 22
Faculty of Arts and Science
Factors

Public Visibility


All pages viewable by general public and U. of T. community
Little adverse criticism about content

Risk level



High


Low
Recordkeeping Response


Continue to monitor reactions to content
23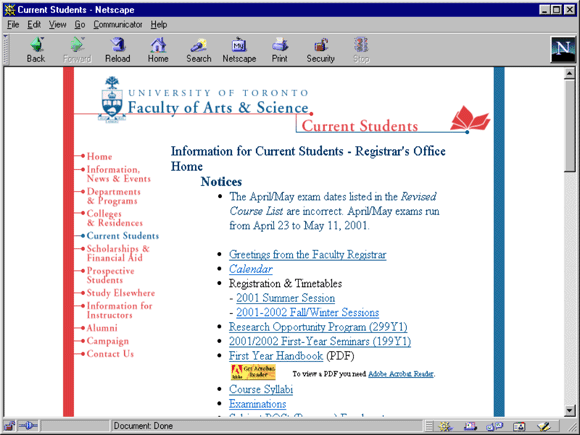 24
Faculty of Arts and Science
Factors

Purpose


Disseminating (publishing) and sharing information
Soliciting responses and feedback (via email)
Provide some online services (POSt)

Risk level



Moderate—High
Recordkeeping Response


Level of risk increases if records and publications are only disseminated on web
Ensure close integration with office's record keeping system
25
Local Site Repository
electronic repository, established under the control of an office for the purposes of temporarily managing dormant copies of that office's electronically recorded information until the corporate recordkeeping system is adequate for the task


replicates at time of posting all pages posted to an active web site in a separate storage device
26
Local Site Repository (Cont'd)
Features:

is a means of reconstructing the information content of an active site;
facilitates the organized disposition of recorded information through:

controlled deletion
transfer of archival records to UTARMS (both publications and official records)
27
Historical Log
Is an offical record and is subject to a retention schedule
Contains the following data elements:

Title or name of posting
Version number of posting
Originating author/office name, address, contact information. This is the Content Manager, the person or office responsible for content creation
Hyperlinks in this posting
Date of Initial posting
Date of last modification
Date of replacement or withdrawal
Disposition of posting after replacement or withdrawal
28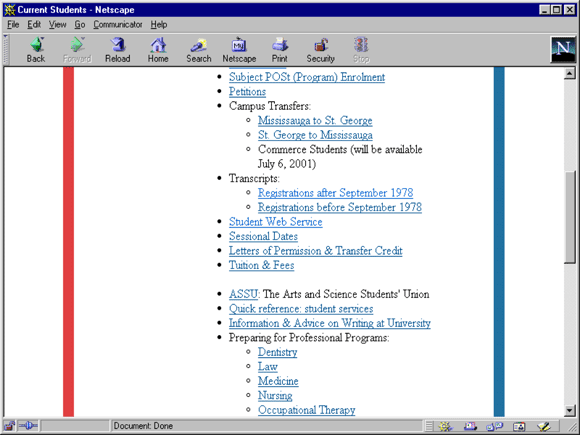 29
Faculty of Arts and Science
Factor

Complexity

Predominately static documents
PDF forms
Document-cuntred (low interactivity) POSt
Access to ROSI

Risk Level


Low - Moderate


Low - Moderate
Recordkeeping Response



Increase in dynamic and interactive documents will increase level of risk
Assess adequency of record keeping system and integrate web records
30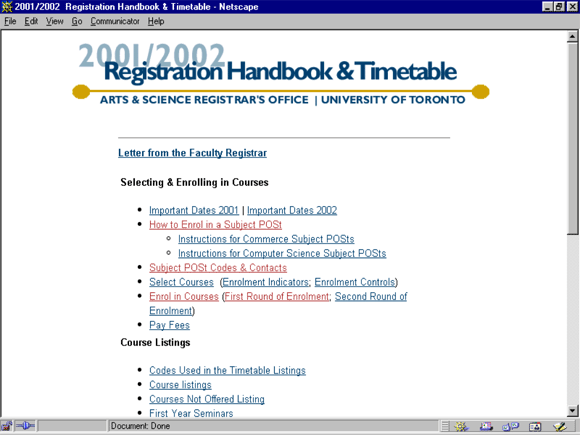 31
Faculty of Arts and Science
Factor

Frequency & Regularity of Change

Irregular (i.e. as required)
Infrequent (i.e. longer than 3 months between changes

Risk Level




Low - Moderate
Recordkeeping Response



Historical log
Records retention and disposition
Local site repository
Transfer to UTARMS
32
Conclusion - U of T
University Archives role:
Acquisition and Accessioning
Arrangement and Description
Use
Preservation
33


34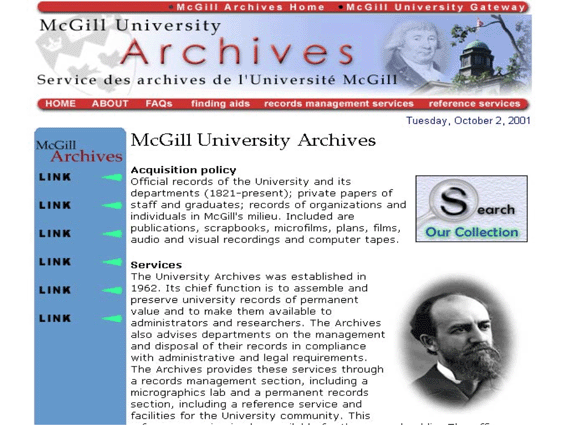 35
Strategic Approach - RM/Archives
Jurisdiction:

Archives Act & Privacy Legislation support RM (for records in all forms)
Combined RM/Archives program
Campus wide records retention schedule (approved by government agency)
Reports to Adminstration
36
Record Keeping "Culture"
Decentralized IT


WEB: Uneven content across the university

RM Program


Emerging web policy Infrastructure


Emerging vision for IT development


Record "aware" community
37
Cues - Key Factors
Approach web as records - APPRAISE

Appraise sites (site development broadly) within records retention schedule

"Look and Feel" preservation does not drive the process
Policy development and infrastructure development before preservation
38
Ideally...
Schedule the Web - RM

Treat web sites as a records series?

Transfer web sites and pages to archives "repository" & require that documentation accompany the transfer of sites and pages
Use policies requiring "required" documentation about web sites

Site content, creation, version control, technology platform supports

Impediments??
39
Operational Considerations
Can your institutional archives manage electronic transfers?

Can the sites and pages be copied/reformatted to new storage media?
Secure environment with read only access
Back up copies
Disaster recovery, temperature/humidity
40
Comprehensive Strategy
Policy leadership/development 2001

Senate Committee on Information Systems and Technology

Site/page integration into records retention schedule (appraise sites as per risk analysis) 2002-
Risk Analysis & Test projects (2002-)

Snapshots/local site repository
41
IT Policy & Web?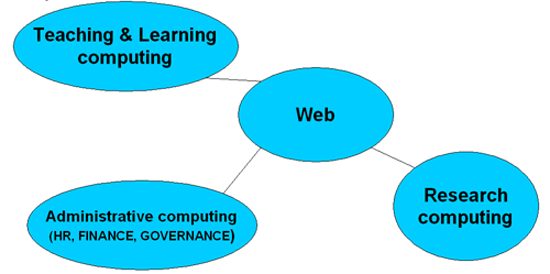 42
Policy "Agenda" - Key Areas
Technical infrastructure



Content



Management
43
Policy Issues - Beyond "Look and Feel"
Technical infrastructure

Relative url addresses
XHTML use for all sites
Minimize software dependence - use neutral formats
Avoid use of proprietary search engines
44
Policy Issues - Beyond "Look and Feel"
Management

Routine capture of major changes
Capture of audit trail metadata
Copy sites and pages
Minimize hardware dependence - transfer of sites to new storage media
Operational support for long-term preservation
Secure access to personal information
High risk sites/risk analysis/loss of data/information
Preservation of sites/retention

costs/operational demands to manage sites designated for preservation
45
Policy Issues - Beyond "Look and Feel"
Content

Defines "official" content and sites (analogy to scheduled agencies in federal governments)
Site accuracy (risk in posting inaccurate content?)
Branding/hallmarking
Compliance campus-wide
Privacy and access considerations
46
Next: Administrative Computing
Defining adminstrative computing

Information policy
Data/record/information << trustees >>

Computing Model/Hardware Standardization
Software Standardization
Workflow/document management
Integrated Archives/records Functions
Office enabling software (Groupware solutions)
Enterprise resource planning (custody, transfer of data between data holders)
47
Recommendations
Clues from record keeping culture

Jurisdiction support & record keeping culture

Collaboration
Integration of RM
Policy development
Test pilot projects (snapshots)
Combined strategies
48
Recommendations
Ensure operations can support preservation strategy

archives/records supported for long-term preservation
49
Recommendations
Preservation strategy reflected in front-end policies

administrative, web policies

Appraise sites/html as other records
50
Session Objective
Review why preserving the web is an issue

Development of the web within IT framework
Archival/RM literature key issues

Outline strategies and operational considerations for preservation
Promote awareness of the importance of web site analysis for institutional accountability
51
Session Objectives - Summary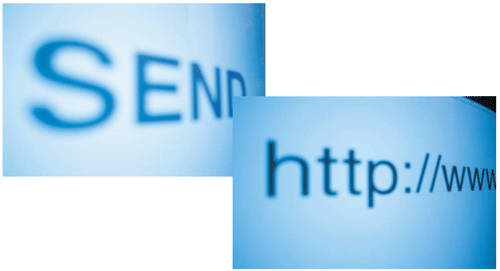 52
Session Objectives - Summary
Why preserve the web? OR Where are we going?

"archival" approach applies across record formats (goal is the same - preserve records of long-term value, ensure accountability)
53
Session Objectives - Summary
Strategies & Operational Issues

Strategies vary according to institutions

Preservation strategy must be supported by front-end policy
Archives/RM operational needs for preservation

Importance of Analysis

Ease of storage costs does not relieve responsibility for preservation
54
Bibliography
McGill and University of Toronto sites:
56
Questions?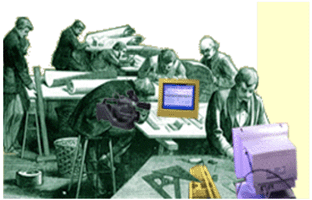 57