About Tempe and Arizona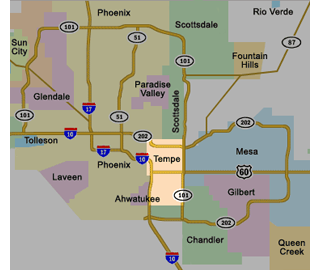 Tempe is part of the Phoenix metropolitan area that locals refer to as "The Valley of the Sun." Tempe is surrounded by the cities of Scottsdale to the north, Phoenix to the west, Chandler to the south and Mesa to the east. We hope you will spend a few days here to take advantage of our gorgeous weather and sample a few of the many things there are to do.
February Weather
In February, Tempe's average high temperature is 73°F (23° C), the average low temperature is 50° F (10° C), and although in the past 10 years February has gotten as warm as the mid-80's (e.g., 30° C), it has not been any cooler than the low 40's (e.g., 6° C) at night. The sun shines approximately 80% of the time in February, with an average rainfall of .7 of an inch for the entire month.
Walking around Downtown Tempe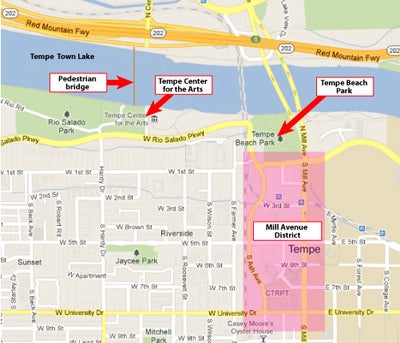 Our typically beautiful February weather makes outdoor activities a favorite pasttime for Arizona visitors and residents alike. The Mill Avenue District is Tempe's unique pedestrian-friendly downtown area that captures the spirit of this college town. Located along Mill Avenue between University Drive on the south end and Tempe Town Lake on the north end, the shady red brick sidewalks, turn-of-the-century buildings, restaurants, entertainment venues and shops make Mill Avenue a perfect place to stroll. Find out more about this area, including a list of the many dining options, on the Mill Avenue District website.
Tempe Town Lake is another top local attraction where visitors and families can enjoy nature on foot, by bicycle or boat. A beautiful new pedestrian bridge has been completed recently, located next to the Tempe Center for the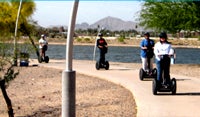 Arts. Along each side of the lake are 12-foot concrete paths for walking, jogging or bicycle riding. Bike rentals are available at the Bicycle Cellar located at the Tempe Transit Center, 200 E. Fifth Street, Suite 105. And for those who wish to take it a little easier, Segway tours of the lake are available through Segway of Scottsdale for $75 per person.
Tempe has other attractions that are only minutes away by automobile. Experience the geological formations and natural beauty of Papago Park, a desert island in the heart of the Valley's metropolitan area where the cities of Phoenix, Scottsdale and Tempe meet. Here you can play golf, walk the trails or learn about the birth place of the Valley.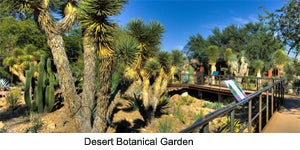 In Papago Park you will find the Phoenix Zoo, one of the largest privately-owned, non-profit zoos in the country. Right next to the zoo is a truly unique Arizona attraction, the Desert Botanical Garden. This "living museum" of desert plant life is one of the nation's only centers dedicated to desert plants, ecology and conservation. Here you can experience more than 20,000 individual plants representing 4,000 different species of cacti, succulents, trees and flowers.

Other Attractions in Phoenix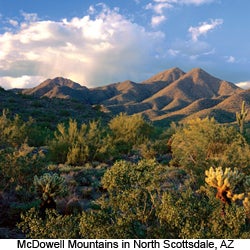 Immediately to the north of Tempe lies Scottsdale, a true destination city nicknamed "The West's Most Western Town." Scottsdale offers something for everyone, whether it's outdoor adventures in a lush desert setting, relaxing spa treatments in one of its many resorts, upscale shopping at Scottsdale Fashion Square, fine dining, a rich art and cultural scene, or a taste of the town's ranching days and colorful coyboy culture in Old Town Scottsdale. On its northeast end, Scottsdale abuts against the McDowell Mountains and McDowell Sonoran Preserve, which offer more than 60 miles of shared-use trails for hikers and mountain bikers. Guided tours by Jeep, Hummer, horseback or even hot air balloon offer access to and views of the desert's most remote and beautiful expanses.

• Visit Scottsdale Convention & Visitor's Bureau website
• Download a brochure that describes Scottsdale's public art walking tour)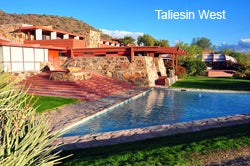 Consider a visit to Taliesin West, Frank Lloyd Wright's personal winter home, studio and architectural campus. Taliesin West is located on a southern slope of the McDowell Mountain range, overlooking Phoenix's "Paradise Valley" area. The site is now a National Historic Landmark and headquarters of the Frank Lloyd Wright Foundation. The Foundation offers a range of guided public tours of Taliesin, where visitors experience firsthand Wright's ability to integrate indoor and outdoor spaces. This integration of space is an inspiration to architects and landscape architects alike. (Also note the Frank Lloyd Wright exhibition at the Phoenix Art Museum, listed below.) Visit the Foundation website for tour information and directions.

Another unique attraction in downtown Phoenix is the Heard Museum, an institution that is dedicated to the sensitive and accurate portrayal of Native American Indian arts and cultures. Since its founding in 1929, the Heard Museum has grown in size and stature to become internationally recognized for the quality of its collections and educational programming. The Heard's partnerships with American Indian artists and tribal communities provide visitors with a distinctive perspective about the art and cultures of Native people, especially those from the Southwest. Visit the Heard Museum website for more information.
The Phoenix Art Museum is the Southwest United States' largest museum for visual art. It displays international exhibitions alongside its comprehensive collection of more than 18,000 works of American, Asian, European, Latin American, Western American, modern and contemporary art and fashion design. The current exhibition, Frank Lloyd Wright: Organic Architecture for the 21st Century, is a wonderful collaboration between the museum and the Frank Lloyd Wright Foundation/Taliesin West. The Phoenix Art Museum is located in downtown Phoenix, accessible from Tempe by light rail. Visit the Phoenix Art Museum website for hours, location, and price information.
Attractions in Arizona
Arizona's unique climate and topography makes it possible to go from the Sonoran desert floor to 12,000 foot mountain peaks within a couple hours' drive. However, a word of caution if you decide to travel north during your stay in Arizona: please check the weather forecast for Flagstaff and northern Arizona, because conditions there can be dramatically different from conditions in Phoenix during the month of February. Winter storms in northern Arizona can bring 24 inches or more of snow, making mountain driving very hazardous.
If the weather is clear, things to see in the northern part of our state include: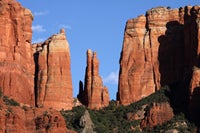 Sedona: Often called "Red Rock Country," Sedona is surrounded by red-rock monoliths that make for some of the most spectacular scenery in the world! At the north end of this picturesque city is the stunning Oak Creek Canyon, a breathtaking wooded chasm that runs north all the way to Flagstaff. One of the most fun and exciting ways to see Red Rock Country is by four-wheel-drive! Pink Jeep Tours has offered off-road tours of Sedona for over fifty years. Visit the Pink Jeep Tours website to learn more about their tour packages.
Whether you're into history and archaeology, arts and culture, shopping or the spiritual and metaphysical, there is something for you in Sedona. Visit the official tourism bureau website for Sedona, Arizona here.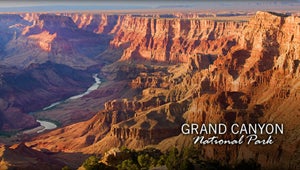 Grand Canyon National Park: The Grand Canyon is one of the Seven Natural Wonders of the World, a designated World Heritage Site, and a crown jewel of the National Park System. The 1.2 million acre park is home to numerous animals (from the endangered California condor above, to cougars, rattlesnakes and Gila monsters below), over 1,500 species of plants, archaeological sites dating back thousands of years, and one of the most complete geologic cross sections visible anywhere on the planet. Sustaining these plant and animal communities, as well as carving the Canyon ever-deeper, is the powerful Colorado River. From top to bottom the Grand Canyon is one mile deep, but be forewarned: walking out of the Grand Canyon makes that one mile feel like the longest, most painfully strenuous climb you will ever experience!

• Visit the Grand Canyon website
• Download a guide to the Grand Canyon in French