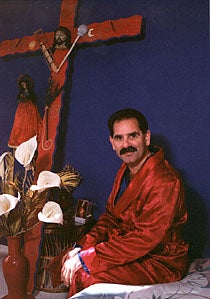 Jorge Rodriquez Eagar
Catholicism, being more universal than other beliefs, gathers unto itself group and personal concepts of environmentalism and respect for Mother Earth. This and other factors assist in keeping and changing folk religious practices inherited from ancestors during the past 2,000 years. But packaged in the modem conceptualized assertions, and using them as means to finding solutions to personal and group problems such as freedom from: alcoholism, drug abuse, membership in gangs, poverty, death in war, divorce, disease, danger, and others. Thus, the"Crencias de mi abuelita" or "Faith and beliefs of my grandmother" have served modern needs for spiritual salvation and as a means and ways for survival in a modern society that for the most part may not share such faith, may not hold to any hope in prayer, and may not practice a bond of love with the saints in heaven.

It can not be said that personal religiosity practices replace regular church membership and participation in the church services, but rather serve as a supplemental activity. There exists no uniformity of church membership and participation among the faithful who carry on some form of religious practice in a home setting with friends or relatives for special occasions or observances, or who adhere to some personal piety, a particular ritual or activity of religion casera, or use of home altars and nichos. (A nicho is an outdoor structure usually constructed out of rock, cement, or other material for housing santos).

It can be surmised from observations, reflections, and study that Catholicism on a personal level, has been on demand from large numbers of Mexican American Catholics. Although many may understand the church's Sacraments of Grace, they nevertheless, may seek an intimacy with Jesus through group scripture study, singing of hymns, and a personal relationship with the Lord. Many may have, at times, disliked being encumbered by demanding church requirements on the pain of sin for obligatory compliance with Sunday and Holy Days church attendance, sacrament of reconciliation, uniformity of personal behavior regardless of a diversity of individual situations concerning marriage or divorce, and participation in the sacraments within formal church structure. Many Mexican Americans existed in this milieu of spiritual diversity among themselves, and many may have home altars and carry out home familial religious practices for additional support and comfort while others may not.