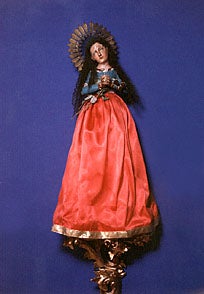 La Madre Dolorosa, saint came from Mexico, Circa 1800 or 1850 Height: 15 inches.
Inset glass eyes. Very expressive face in sorrow.

Owner: Jorge Eagar Phoenix, Arizona
Other than the religious practice of the "Manda", Jorge Rodriguez Eagar discussed other folk religious practices that the Mexican American faithful have inherited. Jorge Eagar himself inherited a respect and love for altarcitos (small home altars) from his grandmother. Since childhood he was interested in altarcitos and making one's own altars. He admired the altars first when he visited his aunts and uncles. After they died, he decided to build his own altarcitos.

But beyond using the santos given him by his family, he began officially collecting antique santos (retablos and bultos) in 1975. Jorge said that he had found this endeavor enhancing; that it had brought him some sense of spirituality; and that for him different elements of the altar depicted historical continuity. However, Jorge felt that as traditions go, the practice of making and using altarcitos is waning in our culture.

Nevertheless, the practice of making and using home altars as a sacramental has been the basis for home religion, of popular religiosity, and provided a historical rootedness in the Mexican American Christian faith. It was a faith inherited from grandparents, "abuelita" and "abuelito".

Jorge Eagar's collection has grown over the years. He has added retablos and bultos, many purchased in antique shops, in far places: Central America, Mexico, Bolivia, Spain, and the Caribbean. "Occasionally,people that know I collect very old santos will donate one to the collection." he said. A student once gave him a Santo Nino. Jorge invited various visitors to his home on different occasions to participate in the liturgical cycle of ritual celebrations such as Christmas Posadas, El Dia de los Reyes, the day of All Souls or Dia de los Muertos, and Lent. For Lent, two weeks before Good Friday, Jorge covered the saints on his altar with purple cloth to commemorate a sorrowful season. A velacion was held for accompanying the Virgen de Dolores (Our Lady of Sorrows).