"PUSHing Boundaries, PUSHing Art: A Symposium on the Works of Sapphire," was a day-long event free and open to the public held on February 28, 2007 on the campus of Arizona State University (Tempe) in the University Club. This symposium featured a series of plenary sessions in which scholars and writers presented papers on a range of topics raised in the novel and Sapphire's body of work. She is the author of two books of poetry, Black Wings & Blind Angels, and American Dreams, a collection of poetry cited by Publisher's Weekly as "one of the strongest debut collections of the nineties." Sapphire's poetry and prose have appeared in numerous journals and publications including, The New Yorker, Spin, Bomb, The Black Scholar, and The New York Times Book Review. Her work has been adapted for stage in the United States, France, and the Netherlands. The event focused particularly Sapphire's highly acclaimed debut novel PUSH (1996) and its non-literate, African American, adolescent, female protagonist, Precious Jones. Recognizing the complexities of Sapphire's work, this symposium fostered discussion between multiple intellectual communities and across academe and the wider reading public regarding issues of community, identity, public education, family, race and gender relations, public health, physical and spiritual wellness, multiple literacies, and sustainability and the environment.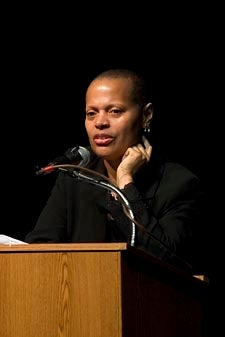 ASU and the larger Phoenix community benefited from this project because it offered an opportunity to expose the University and surrounding communities to diverse intellectual and creative approaches that address (in)justice and humanity. Sapphire's writing, and PUSH in particular, addresses a range of issues relevant to community activisms—from the conventions of traditional African American literature (including orality, invisibility, and literacy acquisition) to ethnography, trauma narrative and environmental justice concerns—producing a text that forces readers and teachers to confront personal, social, cultural and political structures and spaces that maintain inequities and limit humanity.
PUSH features the story of Precious Jones, a sixteen year old girl living in Harlem who is pregnant with her second child, fathered by her father from whom she has contracted HIV, and suffers physical and sexual abuse by her mother. Precious is non-literate and believes she is invisible to the world. In the tradition of Maya Angelou, Alice Walker, Toni Morrison, James Baldwin, and Ntozake Shange, however, the novel reveals the transformative power of community, art and self-definition. As the character Precious learns to read and to write, she begins to define herself and change her life. Winner of the Book-of-the-Month Club Stephen Crane Award for First Fiction and the Black Caucus of the American Library Association's First Novelist Award for 1997, and in Great Britain, the Mind Book of the Year Award, PUSH is as attractive to audiences as it is disturbing. We were particularly delighted that the author herself agreed to give a reading and talk about her work. Additionally, Sapphire attended all the symposium sessions and willingly and openly engaged in discussion following the presentations.
Part of the impetus for this symposium came from an attempt to engage in a discussion of the benefits, risks and (in)appropriateness of teaching and/ or recommending this provocative text and related others in any classroom. Although literature was the central humanities discipline addressed by this symposium, PUSH raises a number of issues that impact the wider society and were explored in symposium plenary sessions. Sessions on trauma narratives and environmental justice concerns both examined literary representations of these issues and informed participants of the reality and significance them in our social milieu. For instance, the depiction of the Harlem environment in which Precious lives is as toxic as her home environment. Discussion of this novel from an environmental justice approach lead to significant inquiry of these issues from a literary perspective and stimulated conversations about the intersections of sustainability and literature. Among the various approaches to PUSH and Sapphire's work from an African American literary and cultural stance, presentations focused on literary representations of literacy acquisition, identity formation, and Blues traditions. A session on teaching and reading young adult fiction provided genre contextual knowledge. The roundtable on pedagogy and scholarship on PUSH offered diverse approaches to teaching trauma narratives, facilitating reader response and leading readers through the process of emotional discovery in a text as well as consideration of the academy's seeming reluctance to write on PUSH. With the culminating reading and lecture by Sapphire, participants learned the process and motivations that inspired her creative expression intimately connected to social justice.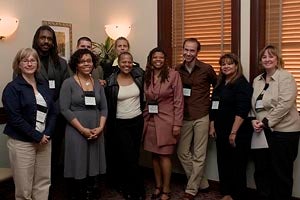 With attendees from local outreach organizations and reading groups in addition to faculty and students from ASU and surrounding institutions, the symposium illustrated the capacity of literature to represent, challenge and offer solutions to real live issues and human events. We hope this symposium will be the beginning of larger discussions about performing race, performing sexuality, performing justice, and performing gender.
--DoVeanna S. Fulton
Video from the Symposium
Symposium Welcome by Neal A. Lester
Click here to view. 3:13 minutes
"Push: Overview and Undergraduate Student Presentations " (UCLUB)
Moderator: Elizabeth McNeil

Presenters: Caryn Bird, Katherine Giovacchini, Monica Van Steenberg
Click here to view. 22:59 minutes
Vernacular and Literacy: Transforming the Self with the Word (UCLUB)
Chair: Angelita D. Reyes

"Locating Sites for Writing and Personal Transformation in Sapphire's Push."
Lynette Myles, Arizona State University
Click here to view. 22:44 minutes

"'He my shiny brown boy:' African American Maternal Vernacular in Sapphire's Push"
Terri Pantuso, The University of Texas at San Antonio
Click here to view. 17:18 minutes
Rhythm, Challenge and Change in Sapphire's Poetry and Short Stories (UCLUB)
Chair: Richard Mook

"Some of Sapphire's Blues Notes"
Michael Pfister, Arizona State University
Click here to view. 25:31 minutes

"Uncollected, Dedicated, and Contributed: Sapphire's earlier work"
Steven Reigns, Poet and Independent Scholar
Click here to view. 13:14 minutes
Motherhood and Trauma: Understanding the Self by Moving Past the Pain (UCLUB)
Chair: Egyirba High

"Explaining Ourselves: A Rewriting and Recollection of Personhood"
Nina R. Candia, University of Maryland, College Park
Click here to view. 18:57 minutes

"Dysfunctional Sex: Social and Familial Isolation in Contemporary Victimization Narratives"
Erin Vonnahme, Southern Illinois University Edwardsville
Click here to view. (Window Media)14:31 minutes
The Body and Space: Environmental and Ecofeminist Approaches to PUSH (UCLUB)
Chair: Peter Goggin

"125th Street Transcendentalism"
Dan Shilling, Sharlot Hall Museum and Arizona State University
Click here to view. (Window Media) 13:23 minutes

"Sapphire's Literary Freak Show: The Ecofeminist Landscape of Push"
Elizabeth McNeil, Arizona State University
Click here to view. 13:24 minutes

"Teaching Environmental Justice Themes in Push"
Joni Adamson, Arizona State University at the Polytechnic Campus
Click here to view. 17:43 minutes
Age and the Page: Young Adult Literature and Secondary Education (UCLUB)
Chair: Alleen Pace Nilsen

"Pushing the Envelope in Young Adult Literature"
James Blasingame, Arizona State University
Click here to view. 45:24 minutes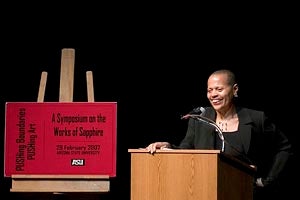 Sapphire Lecture/Reading
Click here to view. 43:29 minutes
Sapphire Question and Answer session following her reading
Click here to view. 33:24 minutes