COLOR UNIT III
ADDITIVE COLOR (Mixing Light)
To introduce the basic physics of color as it relates to light.
Physicists explain color as a function of light. However, our understanding of color as artists is complicated by the fact that the physics of pure light differs in fundamental ways from the physics of pigments or other coloring matter. "Additive" color mixtures refer to colors in light (as in the colors produced by passing white light through overlapping translucent colored "gels"). "Subtractive" color mixtures refer to colors in pigments (as in artist's paint).
It sounds strange at first, but the more colors in light are mixed together, the lighter they become. When equal mixtures of the "light primaries" red, green, and blue (RGB) are projected in overlapping circles, they will mix to form the "light secondaries" yellow, magenta, and cyan. Where all three primaries overlap, they produce white light.
White light was first proven to contain all of the colors by the physicist Sir Isaac Newton in the 17th century. Newton passed a ray of white light through a glass prism. By the principle of "refraction", the beam of light was broken into its constituent parts-- the same familiar rainbow pattern one sees in oil slicks, on the walls of a sunlit room filled with "power crystals", or in a sky filled with moisture and light. A rainbow is the common name we give to the visible light of the electromagnetic spectrum.
Remember: The "light primaries" are different from the "pigment primaries". The light primaries are basically red, green, and blue. The pigment primaries are red, blue, and yellow (see UNIT IV).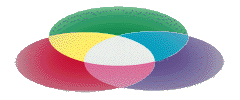 The diagram above shows (additive) Light Mixing. Note white light at the center. Also note that where the light primaries overlap one finds the light secondaries (also known as the "process colors" of cyan, magenta, and yellow). See the following animation for a demo of additive light mixing: http://www.pagelab.com/RGB/1/RGB1.html

Quiz Yourself on Additive Color!


http://askabiologist.asu.edu/research/seecolor/index.html
A.

Identity

1.

2.

B.

Protest and Persuasion

1.

2.

C.

Science and Technology

1.

D.

Collaboration

1.

E.

Other Voices

F.

Art for Hire

1.

G.

Fantasy

1.

H.

The Natural World

1.

I.

Spirit Worlds

1.

J.

Mining for Ideas

1.