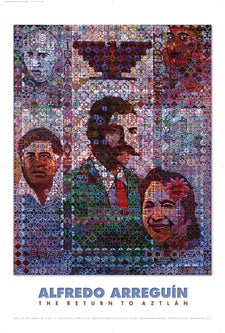 2010 | Poster |36" x 24"
$20.00 unsigned| $50 signed

Special Shipping Rates Apply.
Click here to order

fine art poster produced by the Hispanic Research Center, Arizona State University

The Hispanic Research Center at Arizona State University is pleased to offer a high-quality poster featuring Alfredo Arreguín's painting The Return to Aztlán. The painting is part of the permanent collection of the Smithsonian National Portrait Gallery in Washington, D.C. and has been on display as part of the "American Search for Justice" exhibit at the National Portrait Gallery.

The scope, theme, iconography, dimensions, and artistic brilliance of The Return to Aztlán spearheaded the Arizona State University 2010 Happening, "Good Bandits, Warrior Women, and Revolutionaries," held November 18 through 20, in a poignant way, presenting the artist's conception of a Mexican and Latin American "family tree" that spans some 200 years. At the top left is a portrait of Miguel Hidalgo, and top right, José María Morelos. The two were patriotic Mexican priests who died for the cause of Mexican Independence from Spain. Hidalgo rallied the Mexican people, especially the mestizos and the indios , to the cause of independence, a cause he gave his life for. Morelos carried on Hidalgo's vision and, in turn, also died for it. Between the two liberator-priests is the icon of the United Farm Workers, an eagle stylized in the form of an inverted ancient Mesoamerican pyramid.

The theme of social justice is evident in the other faces included: César Chávez, founder of the UFW; Emiliano Zapata, one of the most recognizable figures of the Mexican Revolution of 1910; and Dolores Huerta a cofounder and current vice president of the United Farm Workers of America, AFL-CIO (UFW).The Arizona State University event poster, "Alfredo Arreguín: the Return to Aztlán" is a faithful reproduction of the original.

Alfredo Arreguín was born in 1935 in Morelia, Michoacán, Mexico. He has lived in Seattle for decades and is nationally and internationally recognized as an artist of profound originality and importance. Arreguín excels in his use of color, line, light, and layered patterning.